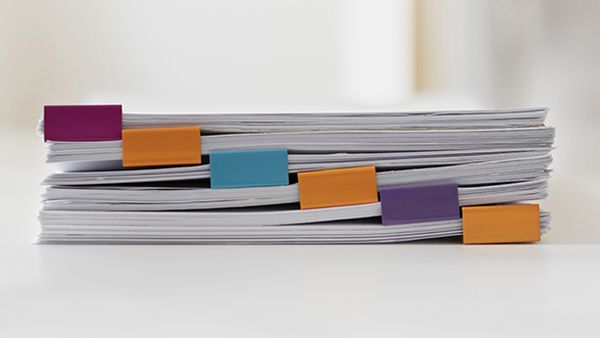 How much does it cost to scan documents?
Wondering about the cost to digitize your paperwork? Here's a breakdown. A standard box typically holds around 2,500 pages. In the scanning world, prices vary but on average, it costs between $0.05 and $0.25 for each page.
A standard box of records typically costs about $200 to scan.
But with ScanHouse America, that's not just for scanning. Our price covers a comprehensive list of services: preparation, actual scanning, post-scan actions, indexing, ensuring quality, and preparing your data for export.
How do you convert to a paperless office?
Short version: Place your documents in a box, and let us handle everything else!
In-depth explanation: Switching to a digital framework isn't just about scanning. It's about creating a seamless system. Here's our step-by-step process:
Collection & Shipment: Pack your documents, and we'll ensure they reach our secure scanning facility safely.

Pre-Scan Prep: We meticulously prepare your files for scanning. That means removing paperclips, staples, and any other obstacles.

Scanning Process: Using specific standards (like 300 dpi and grayscale settings), we transform your paper files into digital versions.

Data Entry & Indexing: Once scanned, you should be able to find them easily. We make sure each file has the correct metadata, so retrieval is a breeze.

Quality Assurance: Accuracy is our mantra. Our advanced software spots most scanning or indexing mistakes. Plus, we have a unique 'double-blind verification' method, with two dedicated professionals checking the work for unmatched precision.

Post-Scanning Steps: Depending on your preferences, we can safely store, responsibly shred, or return the original files.

Delivering Your Data: Whether you want your data through an FTP site, on physical devices, or directly integrated into your management system, we have you covered.
With countless satisfied clients nationwide, our team consistently delivers top-tier document scanning solutions. Ready to embark on your digitization journey? Get a free quote for your scanning needs today!
Factors that can affect pricing for document scanning services:
Ever wondered what goes into the pricing of document scanning? It's not a one-size-fits-all scenario. Here's a breakdown to give you a clearer idea:
1. Volume of Pages
Begin with a simple equation: Multiply the number of boxes by 2,500 (average pages in a box). For instance, 50 standard boxes equate to 125,000 pages.
Remember, smaller scanning projects generally entail a higher per-unit cost.
2. Preparation Intensity
Pre-scanning prep involves tasks like removing staples and fasteners or taking documents out of folders. The more intensive this process, the higher the cost.
3. Post-Scanning Reassembly
Will your documents need reassembling or refiling after scanning? If not, skipping this step is both cost and time-efficient. Also, consider document destruction post-scanning if there's no legal requirement to retain physical copies.
4. Indexing Preferences
How would you like your records organized digitally? The basic approach involves indexing based on box labels (like names or years). But for a nominal fee, OCR (Optical Character Recognition) can be applied, enabling keyword searches. More intricate indexing structures entail higher data entry costs.
5. Scanning Location – Onsite or Offsite?
While most of our projects are completed at our secure facility, we also accommodate onsite requests. However, setting up our equipment at your location comes with additional fees.
6. Integration with a Document Management System
If your scanned documents are destined for a specific management system, we can tailor the indexing and formatting to ensure seamless integration. The complexity of this process can vary based on your system.
Considering a leap into the digital realm? Reach out for a tailored price quote and embark on your digitization journey with us!
To get a free Quote Request today, or give us a call at (425) 818-1221. We'll be in contact to help you with your project.
---